It's the second week efashiontalk.com joined Follow Me Back Tuesday. The thing I love about this bloghop meme is, the hostess and participants really will follow you back. So, if you want to get more followers and meet different bloggers all over the blogplanet, then come hopping with us.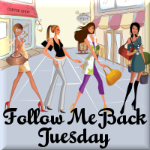 Follow Me Back TuesdayHosted By:
Survey Junkie, Little Yaya's & Boobies,BabiesAndABlog
This week's Guest Hosts are:Julie from JulzJewlz& Barbara from Coupons, Coupons and more coupons
How it Works
* Follow all 3 Hosts & Guest Host's – Spots 1-5 leave a comment w/ a link to your blog so we can follow you back
* ( only leave a comment that you follow if you actually follow )
* Snag our button & make a F.M.B.T. post.
* After you post use that link to add your blog to the hop along with your blog name
( NO BLOG HOPs & GIVEAWAYS PLEASE ) These entries will be deleted.
* Follow the blogs you like & Follow Back who follows you ( Remember to leave a comment so you can be followed back )
* And most importantly – Have Fun and Come back and see us every Tuesday !!