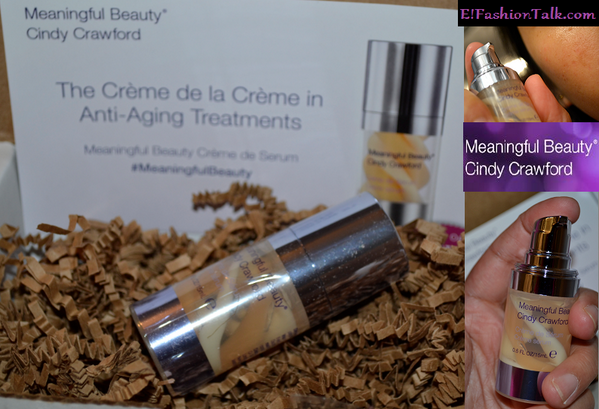 Wanna look young and beautiful? Meaningful Beauty by Cindy Crawford, The Creame de la Creme Anti-Aging Treatment can be the solution to your wish, youthful look that is. As we age lots of changes start to happen like getting wrinkled skin. We cannot stop aging from happening but you can control it from showing. Try The Meaningful Beauty Crème de Serum. There is no assurance but it's worth trying. I have received a free bottle of Meaningful Beauty Crème de Serum from Influenster and been applying it for a week now. I feel like my skin is getting smoother and soft. After the acne inhibited my face last year, I've been trying different beauty product and facial cream to have that flawless feeling again.
Meaningful Beauty Crème de Serum is the ultimate youth-enhancing serum that addresses the past, present and future of your skin, helping to reveal a smoother, more evenly-toned and radiant complexion. It's unique triple blend of powerful anti-aging ingredients; superantioxidants melon complex, anti-agig peptides and hydraulic acid help hydrant, firm and restore more youthful looking skin.
Meaningful Beauty gives you all of the essentials for more beautiful skin. Want to try the full line of products created by French anti-aging specialist Dr. Jean Louis Sebagh with Cindy Crawford? Learn more about the Crème de Serum and find the best product that is essential to your beauty needs. To purchase visit Meaningful Beauty today.
Disclosure: I received these products complimentary for testing purposes from Influenster